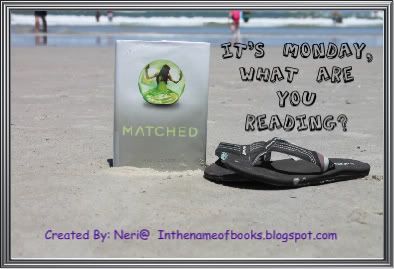 It's Monday! What Are You Reading? is a weekly meme hosted by

Book Journey

where we gather to share what we have read this past week and what we plan to read. It is a great way to network with other bloggers, see some wondeful blogs, and put new titles on your reading list.
My life has been chaotic lately so I haven't done much of anything blog wise and I feel bad. Hopefully I can find some quiet time this week to write a few reviews because i'm probably 5 or 6 reviews behind right now.
Anyways, this is what I read last w
eek, what I am currently reading, and what I hope to read if I can find the time.



Read:
My parents suck ass. Banning me from the phone and restricting my computer privileges are the most tyrannical parental gestures I can think of. Don't they realize that Hope's the only one who keeps me sane? . . . I don't see how things could get any worse."


When her best friend, Hope Weaver, moves away from Pineville, New Jersey, hyperobservant sixteen-year-old Jessica Darling is devastated. A fish out of water at school and a stranger at home, Jessica feels more lost than ever now that the only person with whom she could really communicate has gone. How is she supposed to deal with the boy- and shopping-crazy girls at school, her dad's obsession with her track meets, her mother salivating over big sister Bethany's lavish wedding, and her nonexistent love life? ~ Goodreads




For Rose Gardner, working at the DMV on a Friday afternoon is bad even before she sees a vision of herself dead. She's had plenty of visions, usually boring ones like someone's toilet's overflowed, but she's never seen one of herself before. When her overbearing momma winds up murdered on her sofa instead, two things are certain: There isn't enough hydrogen peroxide in the state of Arkansas to get that stain out, and Rose is the prime suspect.




Rose realizes she's wasted twenty-four years of living and makes a list on the back of a Wal-Mart receipt: twenty-eight things she wants to accomplish before her vision comes true. She's well on her way with the help of her next door neighbor Joe, who has no trouble teaching Rose the rules of drinking, but won't help with number fifteen-- do more with a man. Joe's new to town, but it doesn't take a vision for Rose to realize he's got plenty secrets of his own.




Somebody thinks Rose has something they want and they'll do anything to get it. Her house is broken into, someone else she knows is murdered, and suddenly, dying a virgin in the Fenton County jail isn't her biggest worry after all. ~Goodreads







Currently Reading:
Once a century, one person is chosen for greatness.


Elisa is the chosen one.



But she is also the younger of two princesses, the one who has never done anything remarkable. She can't see how she ever will.




Now, on her sixteenth birthday, she has become the secret wife of a handsome and worldly king—a king whose country is in turmoil. A king who needs the chosen one, not a failure of a princess.




And he's not the only one who needs her. Savage enemies seething with dark magic are hunting her. A daring, determined revolutionary thinks she could be his people's savior. And he looks at her in a way that no man has ever looked at her before. Soon it is not just her life, but her very heart that is at stake.




Elisa could be everything to those who need her most. If the prophecy is fulfilled. If she finds the power deep within herself. If she doesn't die young.


Most of the chosen do. ~ Goodreads



Next:
Josie's come a long way from being an average human chick who just wants to sex-up a vampire. She's dated, mated, and killed one of the world's richest vamps and is currently seeing a mysterious, blood-slurping hottie named Walker.


Now, Josie must adjust to the realities of a steady relationship with a vampire, which isn't all exciting parties, hot sex and moonlit walks. And with a vamp who's anxious to push their relationship to the next phase as mortality bears down on his human's fragile body, the pressure for Josie to commit is on.

Can their night-day romance survive leaving Josie's character and individuality intact, or will the secrets of the supernatural community crush her spirit and her chance at a permanent vampire mate?





In Georgina Kincaid, succubus and she-demon, #1 New York Times bestselling author Richelle Mead has created one of her most enticing characters. But with a shot at love, and maybe even redemption, is the ultimate seductress finally going soft? Like hell she is. . .

Georgina Kincaid has had an eternity to figure out the opposite sex, but sometimes they still surprise her. Take Seth Mortensen. The man has risked his soul to become Georgina's boyfriend. Still, with Lucifer for a boss, Georgina can't just hang up her killer heels and settle down to domestic bliss. In fact, she's being forced to transfer operations. . .to Las Vegas.

The City of Sin is a dream gig for a succubus, but Georgina's allies are suspicious. Why are the powers-that-be so eager to get her away from Seattle—and from Seth? Georgina is one of Hell's most valuable assets, but if there's any way out of the succubus business she plans to take it—no matter how much roadkill she leaves behind. She just hopes the casualties won't include the one man she's risking everything for. . . ~Goodreads
So what are you reading this week, anything you are super excited about reading? Leave a link and I'll check it out.
Happy Monday!