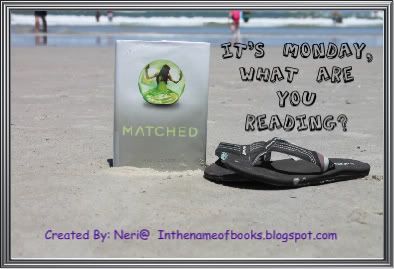 It's Monday! What Are You Reading? is a weekly meme hosted by Book Journey where we gather to share what we have read this past week and what we plan to read. It is a great way to network with other bloggers, see some wondeful blogs, and put new titles on your reading list.
Last week I didn't get much reading done since I was recovering from my weekend trip to NY. But, I'm hoping that by listing what I hope to accomplish this week will help me keep on track :)
Read:
Budding designer Lola Nolan doesn't believe in fashion . . . she believes in costume. The more expressive the outfit -- more sparkly, more fun, more wild -- the better. But even though Lola's style is outrageous, she's a devoted daughter and friend with some big plans for the future. And everything is pretty perfect (right down to her hot rocker boyfriend) until the dreaded Bell twins, Calliope and Cricket, return to the neighborhood.




When Cricket -- a gifted inventor -- steps out from his twin sister's shadow and back into Lola's life, she must finally reconcile a lifetime of feelings for the boy next door. ~Goodreads
Currently Reading:
The True Confessions of a TV Psychic!




A sparkling romcom based on the true life adventures of Britney Bronte, hapless wannabe celebrity psychic.


Meet Britney, a girl with a pack of cards and almost no ambition, who finds herself jetset to stardom on psychic Television. Will she find fame? Inner meaning? True love?



Crazies and conmen, angels and aliens, predictions and porn, they're all to be found in this whistleblowing romp through the New Age. You'll laugh, you'll cry, you'll howl... but whatever you do, remember please, DO NOT LICK THE PHONES!






My parents suck ass. Banning me from the phone and restricting my computer privileges are the most tyrannical parental gestures I can think of. Don't they realize that Hope's the only one who keeps me sane? . . . I don't see how things could get any worse."




When her best friend, Hope Weaver, moves away from Pineville, New Jersey, hyperobservant sixteen-year-old Jessica Darling is devastated. A fish out of water at school and a stranger at home, Jessica feels more lost than ever now that the only person with whom she could really communicate has gone. How is she supposed to deal with the boy- and shopping-crazy girls at school, her dad's obsession with her track meets, her mother salivating over big sister Bethany's lavish wedding, and her nonexistent love life?






Next:
For Rose Gardner, working at the DMV on a Friday afternoon is bad even before she sees a vision of herself dead. She's had plenty of visions, usually boring ones like someone's toilet's overflowed, but she's never seen one of herself before. When her overbearing momma winds up murdered on her sofa instead, two things are certain: There isn't enough hydrogen peroxide in the state of Arkansas to get that stain out, and Rose is the prime suspect.




Rose realizes she's wasted twenty-four years of living and makes a list on the back of a Wal-Mart receipt: twenty-eight things she wants to accomplish before her vision comes true. She's well on her way with the help of her next door neighbor Joe, who has no trouble teaching Rose the rules of drinking, but won't help with number fifteen-- do more with a man. Joe's new to town, but it doesn't take a vision for Rose to realize he's got plenty secrets of his own.




Somebody thinks Rose has something they want and they'll do anything to get it. Her house is broken into, someone else she knows is murdered, and suddenly, dying a virgin in the Fenton County jail isn't her biggest worry after all.



So what are you reading this week, anything you are super excited about reading? Leave a link and I'll check it out.
Happy Monday!