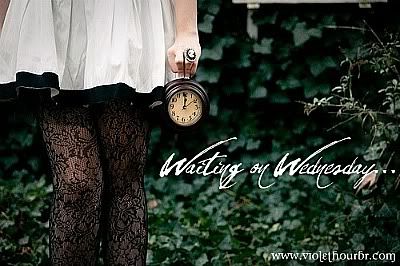 Waiting on" Wednesday is a weekly meme, hosted by Jill at
Breaking the Spine
, that showcase upcoming releases that we are eagerly anticipating.
You know the books that you read just because they are entertaining, hold your attention, and make you laugh out loud. These are the light reads that you don't have to think about, that you can just enjoy. Well one of my favorite is Gemma Halliday's High Heel Mystery series. Recently I found out that she has written her first YA book that will be released in October by Harper Teen. I'm super excited about this, and isn't the cover beautiful?

Hartley Grace Featherstone is having a very bad day. First she finds out that her boyfriend is cheating on her with the president of the Herbert Hoover High School Chastity Club. Then he's pegged as the #1 suspect in a murder. And if that weren't enough, now he's depending on Hartley to clear his name. Seriously? Not cool. But as much as Hartley wouldn't mind seeing him squirm, she knows he's innocent, and she's the only one who can help him. Along with her best friend, Sam, and the school's resident Bad Boy, Chase, Hartley starts investigating on her own. But as the dead bodies begin to pile up, the mystery deepens, the suspects multiply, and Hartley begins to fear that she may be the killer's next victim.

What are you waiting for? I can never have enough books. Leave a link and I'll check out your WOW.