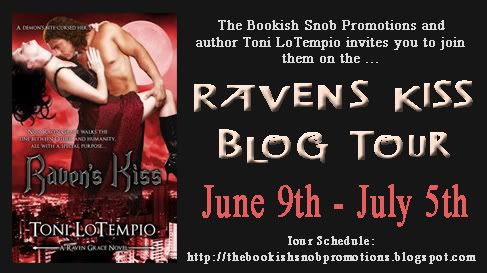 Today I am hosting an interview with the author of Raven's Kiss Toni LoTempio. If you haven't read this book you definitely need to check it out.
Raven Grace was a college senior with ambitions of a career in law enforcement when she met the demon Aega, whose bite turned her from mortal to Shapeshifter. Now a member of the Recovery Organization, Raven keeps the peace between humans and errant Hellhounds, trolls, wizards and the like while trying to track down Aega and bring him to justice. After a particularly dicey encounter one night with a Hellhound, she goes to the aid of a girl who's been attacked and near death—and is amazed to find Aega's bite mark on the girl's arm. Determined to get to the bottom of this, she revisits the victim's apartment and there discovers her closet is a portal to a parallel universe, where people she knows lead vastly different lives. She also gets a glimpse of the Recovery Captain there—a six foot, redheaded Scotsman named Finn McPhee, whose sexy accent and even sexier bod sets her senses aflame. Seeking answers, Finn takes Raven to the magickal underworld, where an ancient fae informs them the demon's quest is rooted in Scottish mythology and magick. As they delve deeper into legend, the truth comes to light—Aega is only a pawn, subservient to another, darker demon…a being who knows the truth about Raven's heritage, and who orchestrated her return to this parallel universe for the ultimate showdown. Now, Finn and Raven find their passion for one another must take a backseat to Raven's battle with a dark force who won't be satisfied until he's claimed her soul for his very own.- Goodreads Synopsis
You can purchase Raven's Kiss:
Amazon
or
Barnes & Noble
.
The Interview:
Since I love twitter, I think it would be fun to see how you would describe your book Twitter-style. How would you describe it in 140 characters or less?
Shapeshifter with issues and Hot Scot track down the demon who turned her.
When did you know you wanted to become a writer or have you always known?
I think I knew the first time I rewrote the ending of a story I didn't' like LOL.

And that was when I was about five.
What was the hardest part of the writing process?
T

he actual
plotting, making sure everything fits and dovetails and makes sense.

I start with an outline which changes a gazillion times during the actual writing.

Nine times out of ten the finished book looks nothing like the original outline.
What inspired the concept for Raven's Kiss?
I wanted to do a non-vampire book, and I've always been fascinated by the concept of parallel time, ever since I saw it on Dark Shadows years ago. So I thought up the idea of a shifter who wanted to hunt down the demon who turned her, but to complicate matters, I put them in a universe where she'd be

surrounded by people who were both familiar and different at the same time. Does that make sense, I hope?
J
Can you tell us a little bit about your writing environment and/or and rituals you go through before sitting down to write?
I have a room set aside as my den, so I go in there, and usually I'll arrange my notes, set up the CD player, just procrastinate in general
J
Then I'll pull Rocco (my tuxedo cat) up on my lap and just start writing.

Somedays I'm really fired up and others I just sit there and stare at my blinking cursor.
J
I find music definitely helps my writing juices flow.
What is your favorite Book or Series?
Wow, that's tough – I have a lot. Two weeks ago I would have picked the Rizzoli and Isles series by Tess Gerritsen, but right now I'd have to say the Immortality Bites series by Michelle Rowen. I just finished them all and that woman rocks!

I worship at her altar – I love her writing style!

Can't wait for her new series starring those characters which is coming out next year.
If you could be a character from one of your favorite books, who would you be?
Hands down, Scarlett O'Hara from Gone with the Wind. She had it all, brains, snarky comebacks, attitude – Scarlett was the original kick ass heroine.
Do you listen to music while you write, if so what's on your playlist?
It alternates between Michael Buble and the soundtrack from Phantom of the Opera, depending on my mood.

Right now I have the soundtrack from MUSIC AND LYRICS on my CD.

Who knew Hugh Grant could sing?
If there was one thought or feeling you would want readers to take away from reading Raven's Kiss, what would it be?
"Hey – this girl can write.

I didn't waste my .99. Wonder what else she's written?"
Thank you Toni for stopping by, it was a pleasure having you on here today. :)
About the Author:
Hello! I'm Toni LoTempio, author of Paranormal Romance/Romantic Suspense/YA Fantasy! I've been writing ever since I was old enough to read, when I didn't like the endings of the stories my mother read me I simply rewrote them  Even though I write mainly in the paranormal genre, I have also written straight horror, as well as contemporary romance/suspense.

In 1995, I joined the staff of SUSABELLA PASSENGERS AND FRIENDS, a pulp magazine for collectors of antique children's literature (Nancy Drew, Hardy Boys, etc.) Currently I've written over 300 articles for that magazine, and I was the first recipient of their Margaret Sutton Award for Distinguished Writing in 1998. I joined the staff of NIGHT OWL REVIEWS IN January 2011 as the suspense reviewer/columnist. My column, DARK STREETS, which features articles on suspense authors and their novels, is featured on a monthly basis. I love to spotlight new talent, so if you're a suspense author, please contact me!



In 2007, Whiskey Creek Press published BOUND BY BLOOD, a tale of possession, and EBONY, which deals with zombies and the dark side of man. EBONY was #2 on the Fictionwise bestseller list for e-books for the month of July 2007, beating out Stephen King's Lisey's Story. (and no one was more shocked than I, LOL) In 2010, after countless attempts to land another agent, I took the advice of a fellow author HP Mallory, and self published NO REST FOR THE WICCA, which has been on Amazon's list of top one hundred in Occult since March 2011. My short story, THE SACRIFICE, appears in the e-published anthology KISS ME KILL ME, and I also have a YA fantasy, MY SUPERHERO SISTER on B&N and Amazon. A complete listing of my books appears at the end of this bio.


Currently single, I work full time and live in Clifton, NJ, with my muses: Rocco, Maxx, Gata and Trixie. (Rocco is also known as Rocco the SciFi Blogging Cat and has appeared on the SciFi Saturday Night website and radio show, and also on the Kids Need To Read website where he holds the distinction of being the first (and possibly only!) blogging cat to support this charity!)


I love hearing from fans, so please feel free to friend me on FACEBOOK, and visit my website, www.tonilotempio.webs.com Rocco and I post daily M-F on his blog, www.catsbooksmorecats.blogspot.com




Toni LoTempio Books:


Bound by Blood – Whiskey Creek Press, trade paperback & e-book, Feb. 2007 (paranormal suspense)
Ebony – Whiskey Creek Press, trade paperback & e-book, July 2007 (paranormal suspense)
Witch's Pawn – Echelon Press, trade paperback & e-book, December 2008 (horror)
Nom de Plume – Whiskey Creek Press, trade paperback & e-book, November 2008 (contemporary romance)
It's in the Cards – Whiskey Creek Press, e-book, February 2010 – (paranormal romance)
Out of the Ashes – Whiskey Creek Press, e-book, May 2010 – Fantasy
No Rest for the Wicca – Amazon & B&N Pub-It, e-book, September 2010 – paranormal suspense
My Superhero Sister – Amazon & B&N Pub-It, e-book, Trade Paperback - January 2011 – YA Fantasy


Kiss Me, Kill Me – Amazon & B&N Pub-It, e-book anthology –February 2011 – Short Story, "The Sacrifice"


Raven's Kiss – Amazon & B&N Pub-It, e-book, & Trade Paperback April, 2011 – Paranormal Romance
The Next Stop on the Tour is:
Reality Bites