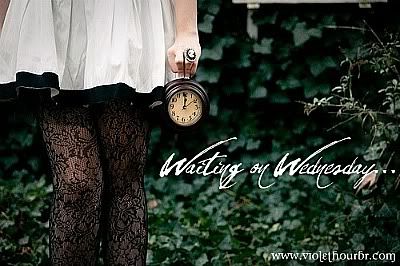 Waiting on" Wednesday is a weekly meme, hosted by Jill at
Breaking the Spine
, that showcase upcoming releases that we are eagerly anticipating.
I anxiously awaiting the final book in the Torn Trilogy by Erica O'Rourke.
I have to say I cannot wait until the final book in this series is released. I've been obsessively checking the author's website and the publishers looking for a sneak peek of the final book but, haven't found anything yet
. Hello, June 26th hurry up and get here; I need to read this already.
This first book in the series Torn started off so-so for me, I wasn't completed in love with the book but I liked it enough to read the second book and let me tell you this the second book had me completely hooked. I adored all of the characters and there were moments when I felt betrayed, I wanted to cry, or just chuck the book because it was a "WTF" moment but it was fantastic! I'm not a big fan of the book covers but, don't let it fool you.
If you haven't read this series before I suggest you skip the blurb for Bound below it's kind of a spoiler.
Here's the blurb for book one:
Everyone has secrets. Even best friends. Mo Fitzgerald knows about secrets. But when she witnesses her best friend's murder, she discovers Verity was hiding things she never could have guessed. To find the answers she needs and the vengeance she craves, Mo—quiet, ordinary, unmagical Mo—will have to enter a world of raw magic and shifting alliances. And she'll have to choose between two very different, equally dangerous guys—protective, duty-bound Colin and brash, mysterious Luc. One wants to save her, one wants to claim her. Which would you choose
Mo Fitzgerald has made her choice: A life in Chicago. A future with Colin. To leave behind the enigmatic Luc and the world of the Arcs. But the more she struggles to keep her magic and mortal lives separate, the deadlier the consequences. In the end, Mo must risk everything--her life, her heart, her future--or lose it all. ~

Add to Goodreads
What book are you anxiously waiting for?