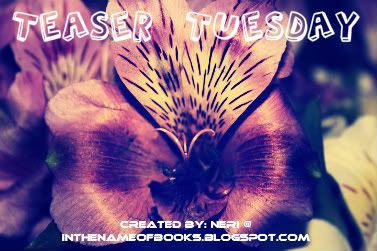 Teaser Tuesday is a weekly bookish meme, hosted by MizB at
Should Be Reading
. Anyone can play along! Just do the following:
Open to a random page

Share two (2) "teaser" sentences from somewhere on that page

BE CAREFUL NOT TO INCLUDE SPOILERS!

(Make sure that what you share doesn't give too much away! You don't want to ruin the book for others!)

Share the title & author too, so that other TT participants can add the book to their TBR lists if they like your teasers!
I absolutely adored this book, the story was intriguing and the build up of the world was fantastic. Can I also mention, how beautiful is that cover? The book is actually released today so I am super excited to order a pretty hardcover copy for my bookshelf.
"For that moment, standing so close I could practically hear his heartbeat, I wanted nothing as much as I wanted him to kiss me." ~Quote from ARC

ABOUT THE BOOK:
NEWSOUL
Ana is new. For thousands of years in Range, a million souls have been reincarnated over and over, keeping their memories and experiences from previous lifetimes. When Ana was born, another soul vanished, and no one knows why.

NOSOUL
Even Ana's own mother thinks she's a nosoul, an omen of worse things to come, and has kept her away from society. To escape her seclusion and learn whether she'll be reincarnated, Ana travels to the city of Heart, but its citizens are suspicious and afraid of what her presence means. When dragons and sylph attack the city, is Ana to blame?

HEART
Sam believes Ana's new soul is good and worthwhile. When he stands up for her, their relationship blooms. But can he love someone who may live only once, and will Ana's enemies—human and creature alike—let them be together? Ana needs to uncover the mistake that gave her someone else's life, but will her quest threaten the peace of Heart and destroy the promise of reincarnation for all?






Leave a link to your teaser and I'll check it out. Happy Tuesday :)