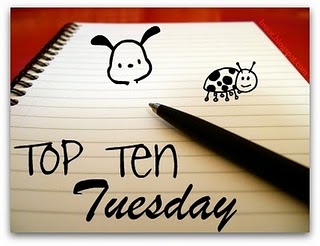 Top Ten Tuesday is a weekly meme created & hosted by
The Broke and the Bookish.
This week's topic is:
Top Ten Books I Feel As Though Everyone Has Read But Me
This is my first week participating in this meme and i'm very excited about it. I can't tell you how many times I've been on twitter and someone is having a conversation about a book that I've heard a thousand other people talking about and I feel absolutely lost. I seriously need to remedy this situation soon.
Here's my list:
Clockwork Angel by Cassandra Clare- Read the first three books in the TMI series but then I got distracted and have yet to pick up this book.
Fever Series by Karen Marie Moning - Didn't hear about this series until someone on twitter told me about it.
Lords of the Underworld by Gena Showalther- Didn't know about this series until Jess @ Gone With The Words and Isalys @ Book Soulmates pimped it out and convinced me that I was missing out if I didn't read the series. Yes, I now own the first four books but I haven't read it yet. :(
The Hunger Games by Suzanne Collins- I swear I'm the only person left who hasn't read it. I own all of the books and I'm not quite sure why I haven't read it yet. I am going to try to read it before I see the movie or maybe that would be bad.
Soul Screamers Series by Rachel Vincent- I loved the Shifter Series and I'm pretty sure I would love this series as well.
Any books by Simone Elkeles-I have Perfect Chemistry on my tablet but haven't read it yet.
If I Stay/Where She Went by Gayle Forman- I bought the first book after I read so many rave reviews but have yet to pick it up.
Firelight by Sophie Jordan- The premise of the story sounds awesome.
Delirium by Lauren Oliver- Excited to read this book, I've been hooked on dystopian books lately. So I'll have to make time to read this soon.
Bloodlines by Richelle Mead- I really want to read this book but, I am hesistant to pick it up. I really loved VA and I felt so bad for Adrian. I'm not sure how I feel about diving back into a world where Adrian is still hurt. I know i'm being silly, I'll eventually pick this book up to read and then scream at myself for not reading it sooner.
What books do you feel like everyone else has read except you? Leave a link and I'll check it out.