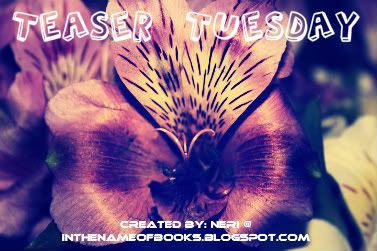 Teaser Tuesday is a weekly bookish meme, hosted by MizB at
Should Be Reading
. Anyone can play along! Just do the following:
Grab your current read

Open to a random page

Share two (2) "teaser" sentences from somewhere on that page

BE CAREFUL NOT TO INCLUDE SPOILERS! (Make sure that what you share doesn't give too much away! You don't want to ruin the book for others!)

Share the title & author too, so that other TT participants can add the book to their TBR lists if they like your teasers!
"Julie Seagle stared straight ahead and promised herself one thing: She would never again rent an apartment via Craigslist. The strap of her overstuffed suitcase dug into her shoulder, and she let it drop onto the two suitcases that sat on the sidewalk. It wasn't like she had anywhere to carry them now. Julie squinted in disbelief at the flashing neon sign that touted the best burritos in Boston. She read the printout of the email again. Yup, this was the correct address."
Synopsis from the Author's Site:
Flat-Out Love is a warm and witty novel of family love and dysfunction, deep heartache and raw vulnerability, with a bit of mystery and one whopping, knock-you-to-your-knees romance.






Something is seriously off in the Watkins home. And Julie Seagle, college freshman, small-town Ohio transplant, and the newest resident of this Boston house, is determined to get to the bottom of it.






When Julie's off-campus housing falls through, her mother's old college roommate, Erin Watkins, invites her to move in. The parents, Erin and Roger, are welcoming, but emotionally distant and academically driven to eccentric extremes. The middle child, Matt, is an MIT tech geek with a sweet side … and the social skills of a spool of USB cable. The youngest, Celeste, is a frighteningly bright but freakishly fastidious 13-year-old who hauls around a life-sized cardboard cutout of her oldest brother almost everywhere she goes.






And there's that oldest brother, Finn: funny, gorgeous, smart, sensitive, almost emotionally available. Geographically? Definitely unavailable. That's because Finn is traveling the world and surfacing only for random Facebook chats, e-mails, and status updates. Before long, through late-night exchanges of disembodied text, he begins to stir something tender and silly and maybe even a little bit sexy in Julie's suddenly lonesome soul.






To Julie, the emotionally scrambled members of the Watkins family add up to something that … well … doesn't quite add up. Not until she forces a buried secret to the surface, eliciting a dramatic confrontation that threatens to tear the fragile Watkins family apart, does she get her answer.
I LOVED this book! My review will be posted tomorrow and my Interview with the author will be posted on Thursday.
Leave a link with your Tuesday Teasers and I'll stop by to check them out :)