I was late registering for Armchair Bea (story of my life) so I missed the interview assignments. I was lucky that Tina from
One More Page
was willing to buddy up with me for the interview portion. Please wish her a warm welcome :)
1.
Let's start this off a bit Twitter style: describe yourself in 140 words or less.
Filipina, writer, wannabe novelist, corporate web girl. Squees over nice notebooks, pens, tigers, cats, stars, sunflowers and dogs. I'd like to think I'm pretty friendly, but that may be because I'm also extremely talkative. I dream of taking a reading vacation, but if not, I'll be okay with a good cup of coffee and a book.
J
2.
So I'm a big music buff, if I picked up your Ipod right now what music would be on your playlist?
I have different playlists for different occasions and functions – I have a running playlist, concert playlists (for set lists of concerts I watched recently), sleeping playlist, etc. Right now, I don't play a specific one, but I'm surrounding myself with music from Parachute, Switchfoot, Brooke Fraser and Adele.
J
3.

I noticed you love to travel, if you could pick anywhere to visit where would you go & why?
The first in my travel bucket list right now is Madrid, Spain, but that's because I'm saving up for a trip there on August to join World Youth Day 2011. Other places I'd love to go to are New York City, Jerusalem and Italy.
J
Who knows, I may be able to visit Italy when I go to Spain.
4.

What is your preferred method of reading? Do use an ereader? Or do you prefer a physical book?
I do all of that, actually. I'm no purist – as long as I can read, I don't mind how I read. I own a Kindle and I love it, and I also read ebooks in my iPod. I love how easy it is to bring books through reading gadgets. However, I still love print books – there's nothing like the smell and feel of a new and old books.
5.

So I recently watched Leap Year (totally a romantic) and one of my favorite questions was if your house was on fire and you had 60 seconds to escape what would you grab?
Okay this is hard. I should know this, because it almost happened when we got flooded. The first thing that came into my mind are my personal and work laptops, and in one of those bags, I should also have my Kindle and my phone and my iPod. And important identification. And money. That should fit in 60 seconds? This question reminds me that I should start on an emergency kit soon.
6.

Favorite Book or Series?
Favorite book: This Present Darkness by Frank Peretti and The Truth About Forever by Sarah Dessen. These are books that I've re-read several times and I still felt the same way about them. For series, I love Jasper Fforde's Thursday Next series, which is a must-read for people who love books and literature! I'm also a big fan of Kate Daniels series by Ilona Andrews, an urban fantasy series with an awesome female lead, and I'm very excited for that because the fifth book, Magic Slays, is coming out at the end of the month!
J
7.

I know you have been blogging for a long time, but what made you decide to become a book blogger?
I've been toying with the idea of having a niche blog for a long time. I only used to have a personal blog, where I talk about books, too. It was a good excuse get away with not posting in my blog by writing about books, but then a friend told me I should start writing about myself again. LOL. Sometime around last year, I decided that if I wanted to keep track of my reading, I should probably start a book blog. And then I did. Now my book blog is more active than my personal blog. :D
8.

When you are not reading, what are some of the things you like to do?
When am I ever not reading? Hee. Okay, when I'm not reading, I'm either with friends or family (or both!), eating out. We love to eat and do stuff together. I also like to run and dance – I try to join some races every now and then, and the dancing is not performing dance, but just fitness dance. :D My love for food has to be balanced with enough exercise. Oh, and my girl friends and I LOVE shopping, too, and we all have a mission to find our perfect red heels. :D
9.

If you received a book gift card for $100 what books would you purchase?
Hm, you know I don't think I'd buy anything new with that. What I really want to do is to upgrade my Jasper Fforde collection. I'm a bit nitpicky about my book collection – I'm one to want uniform editions. For example, if I got the paperback version for one book, the rest of the books should be paperback. Or if it's UK edition, it has to be UK all the way. My Jasper Fforde books are a mish-mash of US, UK, mass market and trade paperback versions. I want to sell/give away the copies I have and get all UK editions, since they're the prettier versions. Look: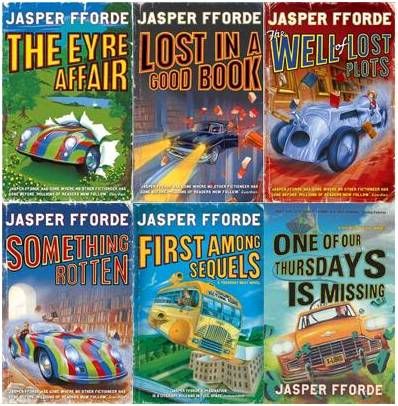 If I had some money left over after that, then I'd probably hold a giveaway.
J
Thank you Tina for stopping by my blog and agreeing to this great interview :) I am definitely going to check out the books you have recommend. I would love to to go to Spain one day, take lots of pics for me :)